Atlas Copco Debuts WEDA Small Range Pumps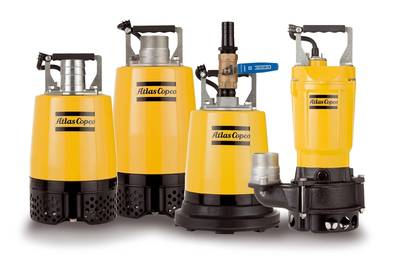 Atlas Copco has introduced a new small range of WEDA pumps to provide fast and efficient dewatering. In addition to the original nine pumps, the WEDA04 and WEDA08 provide drainage pumping, with the WEDA08S for sludge pumping and the WEDA04B for low suction pumping.

The WEDA04 drainage pump is equipped with a 400-watt electric motor, while the WEDA08 features a 750-watt electric motor. The polyurethane semi-vortex impeller reduces the risk of clogging, making it ideal for construction sites or industrial pits. Both models were designed with built-in motor protection, high torque capacitor and a three-terminal automatic cutoff to prevent motor overload and dry burning.

Featuring a 400-watt electric motor, the Atlas Copco WEDA04B residual pump has the ability to pump down to 1 millimeter of water. It is well suited for applications requiring low-suction pumping such as emptying pools or flooding cleanup. A rubber-coated bottom plate protects against scratches or damages.

The WEDA08S sludge pump is specifically designed for difficult sand and mud applications. Equipped with a 750-watt electric motor and a vortex cast-iron impeller, particles and debris up to 25 millimeters can go through the pump housing with minimal wear. The sludge pump's three-bolt disassembling design makes it easy to maintain.

These compact, light and portable pumps come with easy plug-ins and both smooth and threaded discharge. Each new model was designed with an outer jacket for cooling. Thermo protection keeps the pumps running safely under a variety of conditions. If the pump has stopped automatically due to overheating or overload/over-current, it will automatically restart after cooling down. A triple shaft seal assures long life, and the semi-vortex wet end minimizes maintenance. All feature dry running capability.