Incat Holds World Record for Two Decades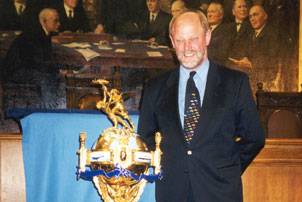 Twenty years ago headlines around the world announced a new world record, the fastest crossing of the Atlantic Ocean, by an Incat Tasmania-built ship. June 23 marks twenty continuous years that Incat-built fast ships have held the record for the fastest Transatlantic Crossing.

On June 23, 1990 Hoverspeed Great Britain, a ship built by Incat in Tasmania, for operation between England and France by Sea Containers Ltd, broke the record for the fastest crossing of the Atlantic Ocean by a commercial passenger ship.

The crossing from Ambrose Light at New York commenced at 7.30pm on June 19, 1990 ending her 2922 mile trip at Bishop Rock in the UK on the morning of June 23.

The Hales Trophy is awarded to "The Ship which shall for the time being, have crossed the Atlantic Ocean at the highest average speed." So it is not simply reaching the highest speed momentarily, the right to fly the Blue Riband is a test of endurance as well, because the high speed needs to be maintained over the entire crossing (naturally slower at the beginning with a full fuel load and becoming faster at the end of the journey).

The previous record had been held for 38 years by the SS United States (1952 - 1990), prior to the SS United States win, the great liners vied for the honor to fly the Blue Riband.

The Incat built high speed catamaran Hoverspeed Great Britain, which broke the record winning the Hales Trophy on June 23, 1990, held the record and the owners held the Trophy, until 1998 when another Incat built ship Catalonia took the record in June 1998, then just a month later in July 1998 yet another ship built by Incat, CatLink V broke the record.

It was the first time in the history of the transatlantic records (dating back to the 1860s) that three ships to win the trophy in succession had been built by the same shipyard.

There have been no challenges to the record which was set in July 1998, and none in sight. The current record is 41.284 knots (76.5 km/ per hour) average over two days, 20 hours and nine minutes.

The Hales Trophy is a heavily gilded ornate trophy over one metre in height and is on display in the offices of the Incat shipyard in Hobart.