Today in U.S. Naval History: December 4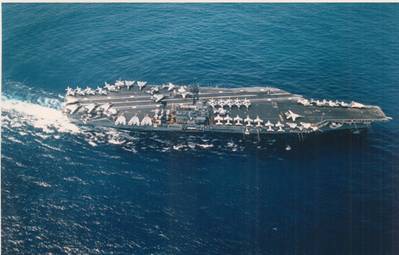 Today in U.S. Naval History - December 4

1918 - President Woodrow Wilson sails in USS George Washington for Paris Peace Conference.

1943 - Aircraft from USS Lexington (CV-16) and USS Independence (CVL-22) attack Kwajalein Atoll, sinking four Japanese ships and damaging five others, while only three U.S. ships suffered damage.

1944 - USS Flasher (SS-249) sinks Japanese destroyer Kishinami and damages a merchant ship in South China Sea. Flasher is only U.S. submarine to sink over 100,000 tons of enemy shipping in World War II.

1965 - Launch of Gemini seven piloted by CDR James A. Lovell, USN. This flight consisted of 206 orbits at an altitude of 327 km and lasted 13 days and 18 hours. Recovery by HS-11 helicopters from USS Wasp (CVS-18)

1983 - Aircraft from USS John F. Kennedy (CV-67) and USS Independence (CV-62) launch strike against anti-aircraft positions in Lebanon that fired on U.S. aircraft. Two U.S. Navy planes shot down.

For more information about naval history, visit the Naval History and Heritage Command website at history.navy.mil.