DHS, Postal Service to Dedicate USCG Forever Stamp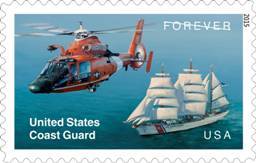 U.S. Department of Homeland Security (DHS) and Postal Service leaders are scheduled to dedicate the United States Coast Guard Forever stamp during a ceremony Tuesday at Coast Guard Headquarters.

The stamp is being issued as a Forever stamp and honors the Coast Guard for its role in protecting the security of the nation and advancing its vital maritime interests. Aug. 4, 2015, marks 225 years of the U.S. Coast Guard's lifesaving legacy.

The stamp depicts two icons of the Coast Guard: the Barque Eagle, a three-masted sailing ship known as "America's Tall Ship;" and an MH-65 Dolphin helicopter, a Coast Guard rescue aircraft. William Phillips is the stamp's artist.