Deepwater Heavy Lift Crane Orders for Cargotec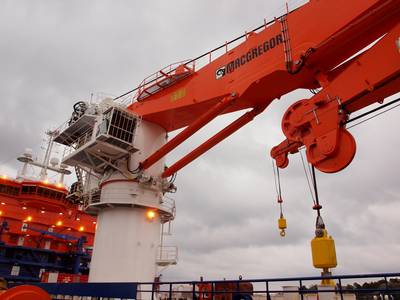 Cargotec's MacGregor contracted by Hornbeck Offshore Services Inc. to deliver 4 AHC cranes for 4 multi-purpose supply vessels (MPSV).
The cranes will be delivered between fourth quarter 2014 and third quarter 2015, and the value of the order is EUR 37-million for the four 250-tonne active heave-compensated (AHC) subsea cranes.
"MPSV's are specialized vessels that are principally used to support complex deepwater subsea construction, installation, maintenance, repair and other sophisticated operations," says Frode Grøvan, Sales and Marketing Director for MacGregor Advanced Load Handling. "We are pleased that Hornbeck Offshore opted MacGregor's advanced 250-ton AHC subsea cranes with operational capability at depths of 3700m suitable for ultra-deepwater operations.