Drydocks World, Maritime World Host French Trade Delegation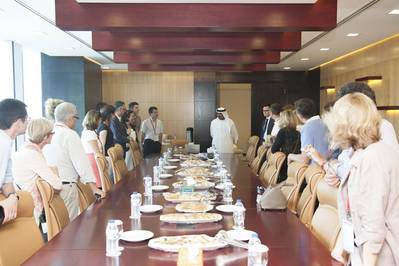 Drydocks World & Maritime World, a service providers to the maritime and oil and gas sectors, announced that they hosted a delegation of representatives of French companies from Brittany under the aegis of the French Trade Commission Ubifrance of the French Embassy in UAE. The delegation comprised of 28 decision-makers of French companies and representatives of Ubifrance.
They met Khamis Juma Buamim, Chairman of Drydocks World and Maritime World and exchanged views on bilateral as well as the enhanced trade relations between the two countries and future prospects for business establishment and growth. The delegation saw a presentation about Dubai Maritime City services and projects and business incubators that are available, which rely on the highest international standards for the protection of rights and investments.


The meeting took place at the Maritime Business Centre, at Dubai Maritime City (DMC).


Khamis Juma Buamim said, "I extend a warm welcome to all of you to the United Arab Emirates (UAE) and I would like to thank you for this initiative and express our happiness for giving us the opportunity that allows us to showcase projects and services that we offer and to discuss opportunities for furthering relations between the companies that are represented and Drydocks World and Maritime World. Our facility at Dubai Maritime City offers significant advantages to organizations which are willing to capitalize on the incredible business growth prospects in the UAE in general and Dubai in particular and the trade relations, business and industrial markets as a springboard for the region and emerging neighboring countries, the fact that Dubai is strategically located ideally between the economies of the west and east, north and south."


Buamim added that Dubai is strategically located and links global economies and stimulates business to strengthen the services and growth of the global economy. He stressed on the interest and desire to manage Dubai Maritime City to provide the highest level of business opportunities, and to create an ideal environment for companies and investors in order to achieve investment returns and accelerate the processes of growth within a short period.


The delegation was accompanied by experts on a tour of the facilities and existing projects which are under construction in Dubai Maritime City and Drydocks World. The delegation expressed deep appreciation for the growth and development of the industrial and commercial sector as well as maritime navigation in Dubai and the advanced features and services offered by the pioneering organizations, which in turn provides sustainable contributions and value-addition to the country's economy and stimulates foreign investment.