Cruise Ship 'Europa 2' Delivered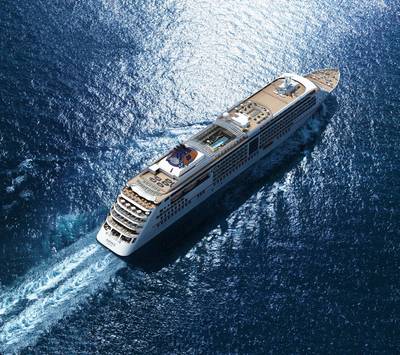 Luxury cruise ship 'Europa 2' is now in the service of Hapag-Lloyd cruises following delivery by STX France.
At a formal ceremony, Hapag-Lloyd Cruises has taken delivery of the modern and casual luxury ship Europa 2 from the STX France shipyard in Saint Nazaire. Dr Wolfgang Flägel, Managing Director of Hapag-Lloyd Cruises and Laurent Castaing, General Manager of STX France, signed the takeover protocol.

After 20 months under construction, the management of Hapag-Lloyd Cruises says it has satisfied itself on the outstanding condition of the new cruise ship. After signing the acquisition papers, Dr Flägel said: "Today is a special day for us. By the addition to the fleet of Europa 2, we are acquiring the latest generation of cruise ship, which embodies an entirely new type of luxury cruise at sea. I am certain that we will raise the bar with the Europa 2 in the luxury cruise sector."
After the signatures and flag change on deck had taken place, Laurent Castaing handed over a large canvas portrait of the ship to Captain Akkermann, the ship's master. In recent weeks over 1,000 of the shipyard's employees worked to complete the cruise ship. Amongst other materials, 10,000 tons of steel have been used, around 300 kilometres of cable and 23,000 square metres of carpet were laid.

The Europa 2 is a modern and casual luxury ship, which does away with cruise traditions such as the captain's dinner. With up to 516 guests, Hapag-Lloyd say that the new cruise ship will provide the greatest space per passenger on a cruise ship anywhere in the world. The ship features exclusively suites with verandas and a minimum area of 28 square metres. Eight restaurants and six bars are dedicated to serving up culinary diversity and a large spa and fitness area accommodates the well-being trend on cruises. Its flexible route concept will appeal to professionals and families in the luxury sector in particular.

The ship will be christened in Hamburg on 10 May 2013, as part of the port's anniversary celebrations. The Europa 2 will then embark on a 14-day maiden voyage towards Lisbon.