New Fireboat Delivered to MassPort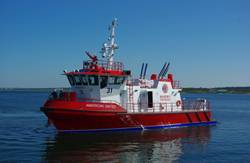 In October 2011, the new RAnger 2400 Class Fireboat, American United was delivered to the Massachusetts Port Authority by the builder A.F. Theriault & Son Ltd.
The vessel, named in remembrance of September 11, 2001, was designed by Robert Allan Ltd. of Vancouver, B.C., who worked closely with the Owner to define the vessel's specific operational requirements. The American United will replace Massport's existing vessel Howard W. Fitzpatrick, built in 1971. Darren Hass, P.Eng. was the Design Project Manager at Robert Allan Ltd. and Jody Bjerkeset, P.E., acted in the capacity of Owner's Representative throughout the construction process.
This new high-performance fireboat is specifically designed to provide fast emergency response, search and rescue, fire-fighting operations, capability as an on-scene command post, port security, EMS and assistance with diving operations and recovery. The vessel is of all-welded aluminum construction and is ice-strengthened to suit year-round operations in Boston Harbour and surroundings. The vessel is equipped with a large aft swim platform, and thirty Switlik life rafts to facilitate rescue of aircraft crash survivors. The vessel is also fitted with a FLIR thermal imaging system and ample flood lighting for night time operation. The vessel has been built in accordance with American Bureau of Shipping (ABS) Guide for Building and Classing High Speed Craft, but was not so classed, and satisfies the requirements for designation as an NFPA Class III fireboat.
The American United has the following particulars:

Length Overall - 79'-1" (24.10 metres) (excluding fenders)
Beam, Moulded - 22'-2" (6.76 metres)
Depth, Moulded - 9'-7" (2.92 metres)
Maximum Draft - 7'-0" (2.13 metres) (to bottom of props)
The fireboat is designed for a full load response speed of 24 knots, which was achieved during trials, and a low-wake, 12 knot cruising/patrol speed. The powering, sea-keeping, and wake generation characteristics of this semi-displacement hull form were verified by computational fluid dynamic analysis (CFD). The propulsion system consists of four main engines, each driving a fixed-pitch propeller, with the two inboard engines also connected to the two main fire pumps at the forward end. Thus, all four engines are utilized to achieve top speed in an emergency response, and then the two inboard engines are de-clutched from the propellers and used to drive the fire pumps while the outboard engines are used to control the boat's position and heading. Total installed propulsion power is 2 x 1,450 BHP (2 x 1,080 kW) from two CAT C-32 ACERT engines and 2 x 873 BHP (2 x 650 kW) from two CAT C-18 ACERT engines. Propellers are five bladed, fixed-pitch, driven through ZF models 2000 A and 3050 V reverse-reduction gears on the inboard and outboard shafts respectively. The propeller design was chosen early in the design process for reliable operation in slush ice, which exists at times in the area of operation.
Electrical power is supplied by a pair of CAT C4.4 diesel gensets, each rated 76 ekW. All engines are EPA Tier II certified. In addition to the American United, the worldwide fleet of major fireboats designed by Robert Allan Ltd. includes new fireboats for New York, Chicago, Kuwait, Hong Kong, Los Angeles, Vancouver, Philadelphia, Baltimore, Shenzhen (China), Dongguan (China), and Portland, Maine.For more information on the American United, or any other RAnger Class emergency vessels, please contact us at [email protected] .