New Flagship for Costa Cruises Delivered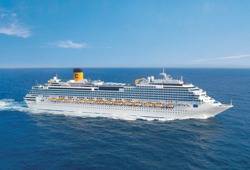 'Costa Fascinosa' has been delivered to Costa Cruises by Fincantieri
Costa Fascinosa, the new 114,500 gt flagship of Costa Cruises, has been delivered to the cruise line, by shipbuilder Fincantieri in Venice, Italy. Officially handed over at the Venice Passenger Terminal, Costa Fascinosa — with sister ship Costa Favolosa — is the largest Italian-flagged cruise ship afloat.
The delivery ceremony was attended by Italy's Minister of Tourism Piero Gnudi, and his daughter Elsa served as godmother of the new 114,500-ton, 3,800-guest flagship. At the ceremony, Costa Cruises and Fincantieri made a joint donation to the Papa Giovanni XXIII Community by Father Oreste Benzi for the "Rainbow Project," which aids children in need worldwide and is supported by Elsa Gnudi.
"The delivery of Costa Fascinosa is an important stepping stone on our company's road to recovery," said Costa Crociere S.p.A. Chairman and CEO Pier Luigi Foschi. "It is confirmation that the long-term fundamentals of our business remain strong, and we will continue to work for our customers, offering them even better cruises on fantastic ships like Costa Fascinosa."
Costa Cruises invested US$668.8 million (510 million euros) in Costa Fascinosa. Construction of the ship at Fincantieri's Marghera shipyard involved the labor of approximately 3,000 yard workers plus 7,000 more people employed by about 500 contracted suppliers, most of them Italian firms.
"Costa Fascinosa is the living proof of the progress and the results achieved by two great Italian industries jointly contributing to spread a positive image of 'Made in Italy' around the world," said Giuseppe Bono, chief executive officer of Fincantieri. "We are most pleased to have contributed to the success of Costa, an Italian company which proudly flies the Italian flag."