Subsea Pile Gripper Frames Delivered by Ulstein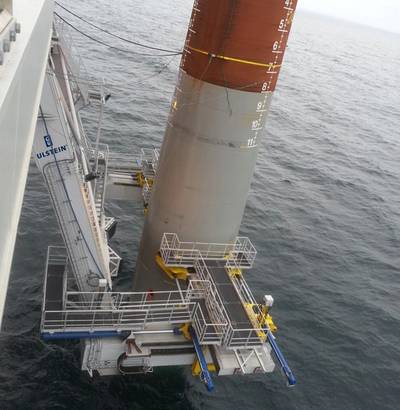 Ulstein subsidiary, Ulstein Idea Equipment Solutions, complete delivery, installation & testing of two pile gripper frames (PGF) for the Offshore Wind Force JV.

The PGF's will be used by DONG Energy West of Duddon Sands (UK) Limited and Scottish Power Renewables (WODS) Limited for the installation of mono-pile foundations in the West of Duddon Sands Offshore Windfarm offshore UK.



The customised pile gripper frames combine smart engineering with the latest in control technology, and are unique in that they are retractable and the lower weight of their design makes them more cost-effective. The pile gripper frames are designed and built for operations in harsh weather conditions and will hold the mono-pile foundations securely in place whilst they are being hammered into the seabed.



The jack-up platforms the PGFs are built for have increased cargo, crane and deck space capacity, allowing both 4-5 foundations (mono-piles) and the same number of transition pieces to be taken on board at the shore base and then be transported and installed offshore in one logistical sequence.

In order to match this sequence, the PGFs have been made retractable, meaning that they can be lowered 12 metres down from the jack-up platform deck for the installation of each mono-pile foundation and then be raised to the deck again before the transition piece is installed. This unique property of the PGF design makes it possible to install the foundation and then grout the transition piece on top of the foundation in a singular process, optimising the utilisation of the jack-up platform's capacity. 


"This PGF design sets a new standard for mission equipment for the offshore installation market. Its unique combination of functionalities and robust design contributes to safe and cost-efficient installation of mono-pile foundations,"says Arjan Boezeman, Director of Concepts and Sales in Ulstein Idea Equipment Solutions.