Fourth LNG-ready Product Tanker Delivered to Crowley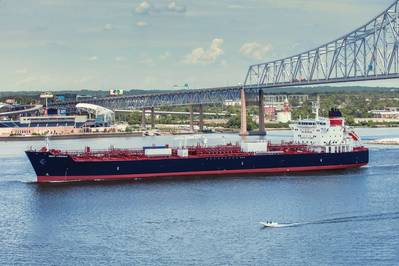 Crowley Maritime Corp. took delivery Friday of MT West Virginia, the fourth new Jones Act product tanker built for the company by Philly Shipyard, Inc. (PSI). Crowley will christen the West Virginia on Tuesday at a ceremony at Philly Shipyard.
The LNG-ready West Virginia can be converted for propulsion by liquefied natural gas (LNG), joining sister ships Louisiana, Ohio and Texas, which were received by Crowley in 2015 and 2016 as the first-ever tankers to receive the American Bureau of Shipping's (ABS) LNG-Ready Level 1 approval.
Like its sister ships, West Virginia is 50,000 dead-weight-tons (dwt) and capable of carrying 330,000 barrels of product. The new tankers are based on a Hyundai Mipo Dockyards (HMD) design that incorporates numerous fuel efficiency features, flexible cargo capability and the latest regulatory requirements. The vessel is 600 feet long and is capable of carrying crude oil or refined petroleum products, as well as various chemical cargoes. Marathon Petroleum Corporation is the charterer.
"The delivery of the West Virginia represents our total commitment at Crowley to providing the best performance for our customers with efficiency and innovative solutions," said Crowley's Rob Grune, senior vice president and general manager, petroleum services. "The completion of West Virginia and its sister ships demonstrates our belief in the Jones Act trade, and our commitment to supporting our economy through U.S. shipbuilding and crewing. We congratulate Philly Shipyard for reaching this milestone, as well as the dedicated, hard-working men and women who build and crew these ships."
Philly Shipyard's President and CEO,
Steinar Nerbovik
, said, "Today's delivery marks the successful completion of a four tanker series for Crowley. We have appreciated a strong partnership with Crowley, stemming from the previous two Crowley tankers delivered in both 2012 and 2013, and today are proud to add these four safe and quality vessels to its growing fleet. On behalf of the men and women at the shipyard, we send our well wishes to the dedicated crew that will operate the West Virginia."