GE Marine Powered Tugs Delivered to SAAM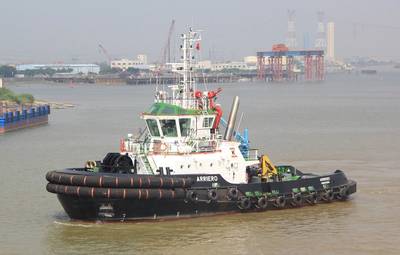 SAAM has taken delivery of its first two tugs to be powered by GE Marine.
These new 80-ton RAstar 3200 terminal support tugs include two 8L250 GE Marine diesel engines. Designed by Robert Allan Ltd. and built at Guangdong Bonny Fair Heavy Industry Limited in China, the tugs will operate out of Uruguay. "Arriero," reached its new home port of Montevideo on November 16 and the second tug, "Maneador," is currently en route. Two additional vessels ordered by SAAM and also to be powered by GE Marine, the "Yunco" and "Huairavo" will sail out of Chile.

This particular tug design, having an overall length of 32 m with a moulded beam of 12.8 m, is very versatile and can be used in a range of duties, from port operations and escort duties to support work for the offshore oil industry. As part of this tug application, the 8L250 GE Marine diesel engines are able to effectively support this range of duties by developing 2,440 kW at 1,050 rpm driving Rolls-Royce US 255 FP azimuth thrusters giving a bollard pull over 85 tons.

"The combination of main equipment selected for this project of four LNG Terminal tugboats and GE engines were chosen after a deep assessment involving important factors including total cost of ownership throughout the lifetime," explains Pablo Cáceres, SAAM Fleet Technical Manager. "We have high expectations on the reliability that our engines should provide our business in the different ports where we operate throughout the American Continent".

SAAM is the largest tug operator in the American Continent and the fourth largest in the world with more than 170 tugs in operation in 11 countries. In July 2014, SAAM entered into agreement with the Boskalis Group to merge their fleets, creating joint ventures in Brazil, Canada, Mexico and Panama.