Cruise Ship Seabourn Ovation Delivered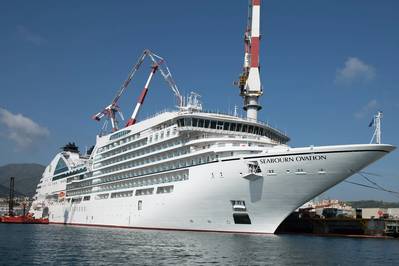 Seabourn Ovation, the second ultra-luxury cruise ship constructed by Italian shipbuilder Fincantieri for Carnival Corporation's Seabourn Cruise Line, was delivered today at the builder's shipyard in Sestri, Genoa.

Seabourn Ovation, as its sister ship Seabourn Encore delivered from Fincantieri's shipyard in Marghera, Venice at the end of 2016, was built according to the standards and cutting-edge technical solutions that make Seabourn one of the most prestigious brands in the ultra-luxury segment, continuing the fleet modernization started in 2009, the shipbuilder said.

The ship is 40,350 gross tons, 210 meters long and 28 meters wide and is able to reach a cruising speed of 18.6 knots. It carries up to 600 guests in 300 all-oceanfront suites featuring a private veranda. Every guest will therefore receive an extraordinary level of treatment and personalized service, with a nearly one-to-one staff-to-guest ratio.

"Completing such a ship with this level of luxury and complexity is not always an assuming result, and therefore we are very proud of it, said Giuseppe Bono, CEO of Fincantieri. "Furthermore, for us it is an even more remarkable industrial achievement if we consider that it is the second delivery within a few weeks and that other two units will take the sea from our yards in the coming two months. Four cruise ships belonging to different kind of market segments, for three different ship owners: no other shipbuilding group can provide such references, and our goal is to further grow and improve."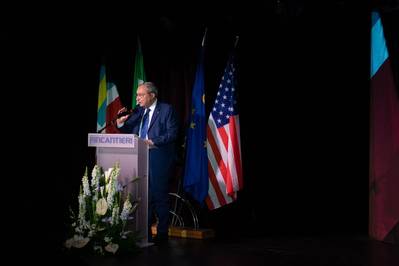 Fincantieri CEO Giuseppe Bono (Photo: Fincantieri)

Bono was joined at the delivery ceremony by Giovanni Toti, Governor of Liguria; Marco Bucci, Mayor of the city of Genoa; Micky Arison, Chairman of Carnival Corporation; and Richard D. Meadows, President of Seabourn Cruise Line.

Meadows commented, "We are pleased to take delivery of Seabourn Ovation, offering yet another reason for luxury travelers to choose us for their next holiday. It has been an incredible journey to see the ship come to life, and the Fincantieri team has done a fantastic job in the construction of the ship. The combination of Adam Tihany's design vision and Fincantieri's fine craftsmanship have resulted in yet another stunning creation. We are very proud to welcome her to the Seabourn family."

Seabourn Ovation will begin her maiden season with an 11-day inaugural voyage departing May 5 from Venice to Barcelona. The vessel will be officially christened at a ceremony in Valletta, Malta on May 11. Actresses and singer Elaine Paige will be the godmother and officially name the ship during the celebration.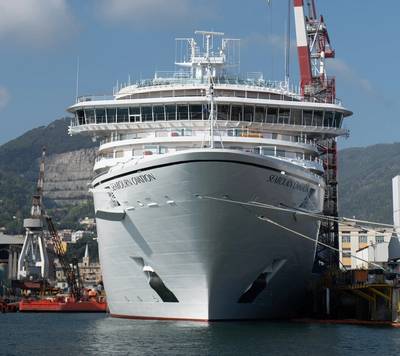 Seabourn Ovation at Fincantieri's shipyard in Sestri, Genoa (Photo: Fincantieri)

Fincantieri has built 82 cruise ships since 1990, 65 of which for Carnival brands. Another 44, including agreements, are currently being designed or built in the group's yards, nine of which for the shipowners of the American group.