New Rescue Vessel Delivered to Sentinel Marine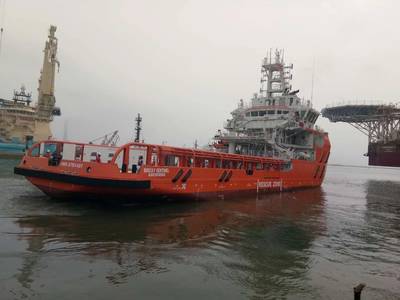 Aberdeen headquartered Sentinel Marine said it has taken delivery of the latest in its fleet of multi-role emergency response and rescue vessels (ERRVs).
Biscay Sentinel was delivered at the Cosco Guangzhou shipyard in China this month and is expected to arrive in Aberdeen in early May. She will immediately join Sentinel Marine's fleet of ERRVs providing support and lifesaving services to the
oil and gas industry
in the
North Sea
.
The 62-meter British-flagged vessel is the seventh of Sentinel Marine's new breed of ERRVs, with a further two under construction and due to enter service later this year.
Rather than retrofitting existing vessels, Sentinel Marine said it has invested significantly in creating a fleet of custom-built ERRVs kitted out with the latest onboard technologies and crew facilities.
"Many ERRVs in operation are repurposed fishing or supply vessels," said Rory Deans, chief executive office of Sentinel Marine, "however by designing our fleet from the ground up, we have been able to ensure that it is fully equipped with everything our crews require to keep our clients safe offshore. Fuel efficiency, too, is far greater in a purpose-built ERRV than that of a repurposed vessel.
In addition to the primary role of lifesaving and protection operations, Sentinel Marine's fleet can perform a range of secondary tasks including cargo storage and
oil recovery
, among others.
"Multi-role vessels like Biscay Sentinel provide a greater flexibility for our clients: in addition to their vital, primary lifesaving role they can also be used across a range of other tasks, including rescue towing and dynamic positioning. This helps our clients keep costs low and provides a better return on investment," Deans said.