US-built Patrol Boats Delivered to Vietnam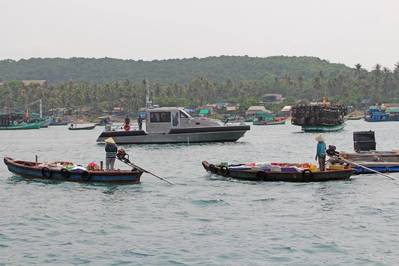 Six newly built military patrol boats constructed by Louisiana based shipbuilder Metal Shark have been delivered to the Vietnam Coast Guard.
The new deliveries follow an initial round of six Metal Shark 45-foot Defiant-class patrol boats delivered to the Vietnam Coast Guard in the province of Quang Nam in May of 2017.
The delivery follows back-to-back U.S. presidential visits to Vietnam from President Obama in 2016 and President Trump in 2017, a visit by Secretary of Defense James Mattis in January 2018, and a visit by the U.S.
Navy aircraft carrier
USS
Carl Vinson
– the first visit to Vietnam by a U.S. aircraft carrier in over four decades – in early March.
The new Metal Shark patrol boats were handed over during the inaugural visit of U.S. Coast Guard Vice Admiral Fred M. Midgette at a delivery ceremony on March 28 at the Vietnam Coast Guard's Region 4 station on Phu Quoc Island, the farthest southwestern territory of Vietnam.
The boats were part of a $20 million transfer of infrastructure and equipment by the U.S. to Vietnam. The delivery also included a training center, maintenance facility, boat lift, vehicles and a navigation simulator.
In an announcement, the U.S. Embassy and Consulate in Vietnam described the transfer as "another significant milestone in the bolstering partnership between the U.S. and Vietnam demonstrating U.S. support for a strong, prosperous, and independent Vietnam that contributes to international security and the rule of law."
The Region 4 Metal Shark boats will serve to deter bad actors from committing crimes against or near Vietnam, where current challenges include smuggling, illicit trafficking, piracy and armed robbery on the high seas, illegal fishing, environmental degradation and others.
U.S. Ambassador to Vietnam, Dan Kritenbrink, said, "This fall, we plan to break ground on the Region 3 facility in Vung Tau" and stated that "this is a truly exciting moment" in the U.S. – Vietnam partnership.
Chris Allard, CEO of Metal Shark, added, "These vessels represent a significant capabilities boost for the military of Vietnam and they are symbolic of the strengthening ties between the United States and Vietnam. It's an honor to contribute to this historic moment and we look forward to continuing our support of this growing relationship with future deliveries."