Vigor Fab Delivers New Harley Alaskan Barge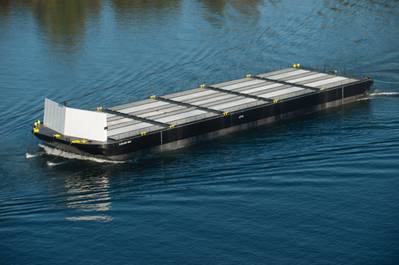 Vigor Fab has delivered Harley Marine Services' newest vessel, the 250'x70'x15'8" 'Iliuliuk Bay' (an Aleut name meaning Big Island). The deck barge is purpose-built to enhance quality of service provided to customers living and working in Alaska.
Iliuliuk Bay is in transit to Dutch Harbor and will enter service on November 3rd. Her unique design provides a flexible workhorse that can easily switch between containers and other cargo to serve the diverse needs of Harley Marine's customers. She will transport a wide variety of cargo between Dutch Harbor and neighboring islands.
"Iliuliuk Bay is the 18th hull fabricated in our Portland yard," said Bryan Nichols, Vigor sales manager. "It is the latest in a series of new build and repair projects supporting Alaskan operations in offshore oil and gas, fishing and transportation services."

The barge, designed by Jensen Maritime Consultants and built at Vigor's Swan Island Shipyard in Portland, Ore., houses a Manitowoc 4100 Vicon Series crawler crane, D-rings to secure 40' ocean containers up to three high and eight lashing bars running fore and aft for other cargo such as heavy construction machinery or general equipment.

Jim Weimer, General Manager of Pacific Coast Maritime states, "The barge is a welcome addition to the growing Harley Marine fleet. Iliuliuk Bay's capacity and custom-built features will allow Harley Marine to continue providing versatility in cargo movements, enhanced safety for the cargo operations and quality marine service to our Alaska based customers."