Austal Delivers Warship LCS 4 'Coronado'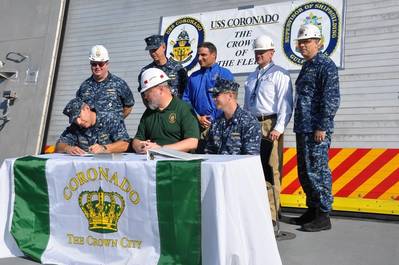 Independence-variant Littoral Combat Ship 'Coronado' (LCS 4) was delivered by shipbuilders Austal to the Navy on September 27, 2013, after successfully completing Acceptance Trials.

The delivery ceremony took place on Coronado's flight deck and was attended by personnel from the LCS Squadron in San Diego, SUPSHIP Gulf Coast, Coronado Crew (both Blue and Gold), the Navy program office, General Dynamics Bath Iron Works (the prime contractor), General Dynamics Advanced Information Systems, and Austal.

Craig Perciavalle, President of Austal USA, remarked: "We are proud to deliver this incredible warship to our great Navy, especially in knowing just how important this program is to the Fleet. This milestone could not have been achieved without the hard work and dedication of the incredible shipbuilders here at Austal, as well as our partners from General Dynamics Bath Iron Works, General Dynamics Advanced Information Systems, and the Navy, all of whom should be so very proud of this significant accomplishment."

The LCS program is in full swing at Austal USA with four other ships under construction at this time. Coronado (LCS 4) will soon be followed by Jackson (LCS 6) which will launch at the end of the year. Construction is well underway on Montgomery (LCS 8) and Gabrielle Giffords (LCS 10). Omaha (LCS 12) started construction just in the last month.