Crowley Delivers New Turbine Blades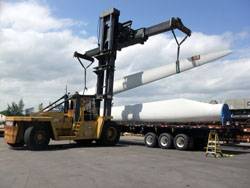 Crowley Delivers Six New Turbine Blades to Costa Rican Wind Mill Farm.


Crowley Maritime Corporation's liner services group recently shipped six oversized wind turbine blades from Port Everglades, Fla., to Limon, Costa Rica. The blades, which weighed two-and-a-half tons each and were 72 feet long, were lifted on board the Crowley ship Stadt Emden, using gantry cranes, slings and hooks, and transported to Costa Rica in time to meet the shipper's tight deadline. With a project solutions team, including project management professionals, engineers, naval architects and logistics experts, and specialized equipment such as ships, tugboats, flat-deck barges and jack-up barges, Crowley is uniquely suited to serve the renewable energy companies with their projects.