Horizon Delivers Second 80' Towboat to FMT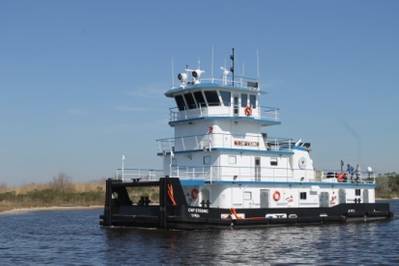 Horizon Shipbuilding, Inc. announced the delivery of another 80' Inland River Towboat, the M/V Chip Stiebing, to Florida Marine Transporters (FMT) of Mandeville, La. Delivered in March 2015, this is the second 80' towboat of the three vessel contract with FMT.
Horizon, a Bayou La Batre,
Alabama shipyard
has delivered several 140' and 120' inland river towboats over the eight-year relationship with FMT. The project manager for the construction of the M/V Chip Stiebing, Mike Sims, has now delivered two of the three 80' vessels on-time.
Horizon also acknowledged for the design of the vessels Jeff Brumfield and Rusty Zeller of FMT, John Gilbert & Associates and Horizon's design team.
The contract for three 80'-0" X 33'-0" X 10'-6" twin propeller towboats was awarded to Horizon in 2013. The 2100 HP M/V Chip Stiebing is used for Intracoastal Waterways and Inland Rivers Operations. The towboat is powered by Caterpillar 3508C, rated 1050 Horsepower at 1600 RPM, diesel engines. The reduction gears are Twin Disc MG 540 reduction gears. Three John Deere 4045 99 KW, 208 Volt AC, 60 Hz, diesel generators are installed for electrical power.