GAC's Mersey Delivers New Rig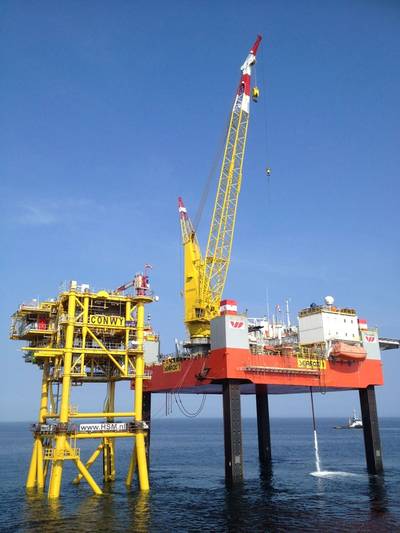 GAC Shipping UK has completed the successful installation of the Conwy platform 40 miles off the port of Liverpool, only two months after a tug carrying the rig's jacket and topside – each weighing in at over 700 MT – set off from Rotterdam.

GAC's Liverpool office was appointed by Dutch heavy civil engineering company HSM Offshore BV to provide an integrated package of support services to construct and hook-up the platform. The journey from the Netherlands took two and a half weeks due to bad weather resulting in ships having to seek shelter in Plymouth and Falmouth. They were eventually discharged at Seaforth Docks for modifications before being towed to the rig site around SEAFOX 1 so that construction could start.
Stephen Deakin at GAC Liverpool says that in addition to handling the ship agency for all the craft involved, his team was also involved in the procurement of plant and materials and arranging the construction of a quayside mattress to help spread the weight of the loads. He adds:

"It took an enormous amount of planning and coordination between the various parties involved - the client, engineers, pilots, the Harbour Master, a plethora of maritime experts, the crews of all the different craft and everyone involved in getting the HSM team out to the rig location to construct the Conwy platform. Pulling all the strands together was a real test of our capabilities - and we passed with flying colours."

Koos Krispijn, Transport & Installation Manager for HSM Offshore BV, says that it was Stephen Deakin's understanding of their business, as well as GAC's back-up organisation and commercial approach, that made the company the obvious choice of the four agencies vying for the project. He adds:

"I knew I could contact GAC at any time to arrange meetings with the authorities, get assistance from GAC's offices on the south coast when the shipments were forced to take shelter, organise civil contracting services, oversee vessel movements, provide all logistics services, make travel arrangements for personnel and help ensure their wellbeing throughout the project.

The Conwy Platform has now been installed successfully and we couldn't be more pleased to have chosen GAC in Liverpool.

GAC operated as a well-oiled machine in every respect, and if we ever need an agent in the UK again, we will definitely go to GAC first."