ULSTEIN Delivers Seismic Research Vessel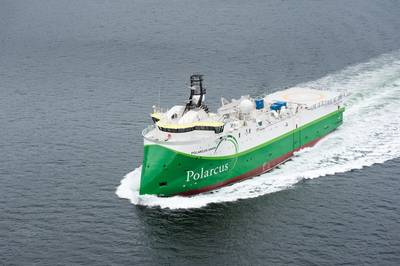 ULSTEIN delivered the next generation seismic research vessel Polarcus Amani to marine geophysical company Polarcus on March 29, 2012. The vessel is of the SX134 design from ULSTEIN, and is vessel number seven in Polarcus' fleet of some of the most modern and advanced seismic vessels in the world, all with the X-BOW® hull line design.

Polarcus Amani is an arctic-ready vessel designed and built for operations in arctic waters. She carries the ICE-1A* and Winterized Basic notations from DNV, and can operate in first-year ice of up to one meter thickness without the assistance of icebreakers. The entire vessel is ice-reinforced with thicker ribs and skin plates. She has de-icing and ice-preventing systems at critical tanks and pipelines, and propellers, gears and thrusters are dimensioned for withstanding operations in ice. Escape corridors and rescue equipment are also protected against icing during arctic operations.

"Ulstein Verft is known for its punctual and high-quality deliveries; and, with the delivery of Polarcus Amani, they have once again proven their ability to handle demanding building projects," said CEO Rolf Rønningen of Polarcus.

Polarcus Amani is the first Polarcus vessel built by ULSTEIN's own shipyard in Norway. She is soon to be followed by her sister vessel, yard number 293, due for delivery at the end of the second quarter.