Keppel Delivers Floatel Superior Early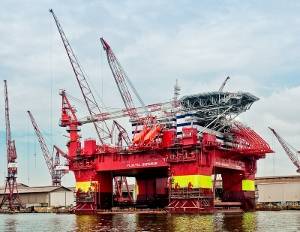 Keppel FELS Limited (Keppel FELS) has delivered the semisubmersible accommodation rig, Floatel Superior, 43 days early, safely and within budget to Floatel International (Floatel). The vessel is now ready to commence operations.

Floatel Superior will depart Singapore shortly for Bayu Undan in the Timor Sea where she will commence her maiden charter contract for ConocoPhillips Australia following 14 days of transit on her own propulsion. This new generation floatel is built to the DSS 20NS design, developed and owned by Keppel's Deepwater Technology Group (DTG) and Marine Structure Consultants (MSC). This design combines DSS series semisubmersible drilling rig and Keppel's SSAU 3600 accommodation semisubmersible designs, to offer a unique solution for the North Sea.

Meanwhile, the construction of Floatel's second accommodation rig, Floatel Reliance, is on track for delivery in the second half of 2010.