Delivery of a New VLCC to Oman Shipping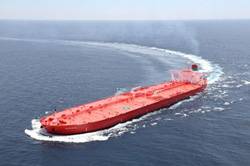 Oman Shipping Company S.A.O.C. accepted delivery of a Very Large Crude Carrier (VLCC), SAMAIL, from Universal Shipbuilding Corporation, in Kawasaki city inJapan, becoming the 29th vessel to be operated by the company.
The 300,000-dwt Panamanian flagged vessel SAMAIL measures 330 x 60 m with a draft of around 22 m. She will be the first VLCC to be technically managed "in house" by OSC's subsidiary by Oman Ship Management Company S.A.O.C. in Muscat.
With this addition, OSC now operates a diversified fleet of 29 vessels comprising of 10 VLCCs, 1 VLGC, 7 LNGs, 4 Chemical Carriers, 4 Product Tankers, 2 Multipurpose Heavy Lift Vessels, 1 Supramax Bulk Carrier. The present tonnage with the addition to this vessel will be 4.2 million DWT and with the delivery of the 12 ships on order, it will reach 8 million DWT by the end of 2012. Oman Ship Management Company S.A.O.C. currently manages 8 vessels comprising of 6 LNG Carriers, 1 Chemical Tanker and 1 VLCC, which is SAMAIL.
Oman Shipping Company S.A.O.C. (OSC) is a closed joint stock company, incorporated in 2003 and owned by the Government of the Sultanate of Oman through the Ministry of Finance (80%) and Oman Oil Company S.A.O.C. (20%). Headquartered in Muscat, Oman, it was established to transport the Sultanate's oil and gas products toworld markets, provide Omani shipping services to the country's trade partnersin other commodities, and to re-vitalize Oman's seafaring tradition. The Company is involved in ship owning, chartering and management activities through its subsidiary companies: Oman Charter Company S.A.O.C., Oman Ship Management Company S.A.O.C., and Oman Container Lines S.A..