CMA CGM Group Takes Delivery of the Amerigo Vespucci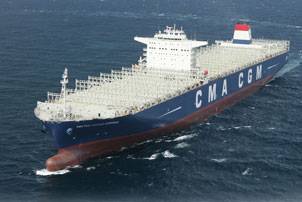 CMA CGM Group took delivery on July 22, in South Korea, of the CMA CGM Amerigo Vespucci (13,830 teu) built by DSME (Daewoo Shipbuilding and Marine Engineering). The second of a series of eight vessels named after the great explorers, the vessel is the sister ship of the CMA CGM Christophe Colomb and has the following dimensions: 1,197.5 ft long, 168 ft large and 50.8 ft draught.

The CMA CGM Amerigo Vespucci sails under the French flag. In compliance with CMA CGM's environmental policy and like all new vessels of this type ordered by the Group, the CMA CGM Amerigo Vespucci is equipped with a combination of innovative environmental features, including:

An electronically controlled engine, reducing oil and fuel consumption thus enabling the vessel to be operated at eco-speed,
- Double-hull protected bunker tanks, in compliance with the MARPOL 12A regulation which will come into effect in August 2010
- The Fast Oil Recovery System, which enables bunkers to be rapidly recovered at any time, hence significantly limiting the environmental consequences should there be an incident at sea

Another distinctive characteristic is the position of its superstructure, located in the front, which maximizes space utilization and guarantees a better visibility from the bridge.

The vessel will be operated on FAL 5 service (French Asia Line) linking Asia to North Europe. Launched in early July, the FAL 5 service has extended the Group's range of shipping solutions on this trade. Today, CMA CGM offers 14 services between Asia and Europe, the third largest market in the world, thus strengthening its position as the market's leading operator. The Asia-Europe market registered a growth of 22% since the beginning of the year. The same trend is observed on all markets, confirmed by the 19% growth announced by the main maritime ports over the same period.

The vessel will start its rotation in Ningbo on July, 31st and then onto Shanghai, Yantian, Tanjung Pelepas, Port Klang, Le Havre, Hamburg, Rotterdam, Zeebrugge, Port Klang, Singapore and Ningbo.