Subsea SE Alaska: Seismic Sensors Deployed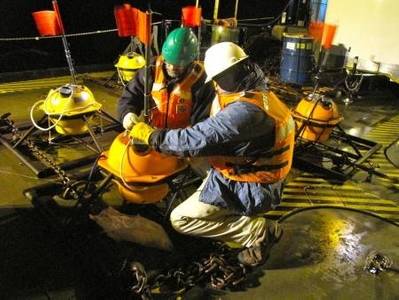 The US Coast Guard Cutter 'Maple' helps the U.S. Geological Survey to deploy 12 seismic sensors along the Queen Charlotte-Fairweather Fault, northwest of Craig, Alaska.
The team placed the ocean-bottom seismometers along a 28-mile section of the Queen Charlotte-Fairweather Fault to improve understanding of recent earthquake activity and associated seismic and tsunami hazards in Southeast Alaska coastal communities.

"The Queen Charlotte-Fairweather fault is similar to the northern San Andreas fault, with the same earthquake potential," said Dr. Peter Haeussler, a research geologist with the USGS. "A problem is that it is located entirely offshore, so it is much harder to study."

The Maple, a 225-foot buoy tender homeported in Sitka, has all the necessary equipment on board to handle hefty equipment like the OBS.
"Our crew uses the buoy deck and crane to routinely service aids to navigation of all shapes and sizes," said Lt. Cmdr. Fred Seaton, commanding officer of the Maple. "We were more than happy to assist the USGS in deploying equipment that will raise earthquake and tsunami awareness in Southeast Alaska."

The crew deployed the 12 seismometers over two days before returning to Sitka. These instruments, and the data they record, are due to be recovered in early June.

"The Coast Guard's willingness to provide a ship for the deployment allowed us to take advantage of a unique opportunity to observe aftershock activity and learn more about fault structure and expected long-term seismic behavior in the region," Haeussler said.