USNS Big Horn Completes Fleet Deployment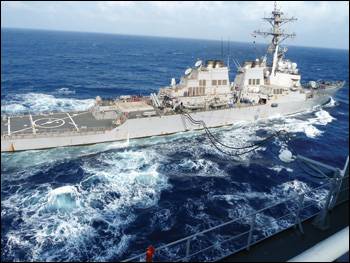 Military Sealift Command fleet replenishment oiler USNS Big Horn returned to Naval Station Norfolk Oct. 28, following a seven-month deployment to the U.S. Naval Forces Europe-Africa/U.S. 6th Fleet area of responsibility, providing underway replenishment services primarily to U.S. and NATO forces supporting Operation Unified Protector.
Big Horn travelled 39,355 nautical miles during the deployment and conducted 112 underway replenishments, delivering 10 million gallons of fuel – including more than 570, 000 gallons of jet fuel – and 1,042 pallets of stores and equipment to U.S. and NATO ships across the northern Atlantic Ocean and Mediterranean Sea. Initially deployed in April to the Irish Sea as part of the 2nd Fleet exercise Joint Warrior 11-1, Big Horn played numerous scenario roles in the multinational exercise – including serving as a training platform for amphibious assaults, joining in ship-to-ship targeting drills, and participating in maritime search and seizure drills – in addition to the ship's principal mission of fleet replenishment.
"During Joint Warrior 11-1, Big Horn conducted underway replenishments with ships from a variety of countries, including Bulgaria, Italy, Spain, Greece, Canada, France, Israel, Turkey, Morocco and Malta," said civil service Capt. Steven Karavolos, master of Big Horn. "Many of the rendezvous-at-sea events included short-notice requests for fuel and stores and were conducted at all hours of the day and night. We continued the excellent tradition of high-quality service and interaction between the U.S. and NATO logistics teams," said Karavolos.
At the conclusion of Joint Warrior, Big Horn reported to U.S. Africa Command to provide vital fuel and stores to the U.S. and NATO ships supporting U.N. Security Council Resolution 1973, which authorized all necessary measures to protect Libyan civilians under threat of attack and to enforce a no-fly zone. Serving the NATO-led Operation Unified Protector, Big Horn provided underway replenishment to ships as well as transportation support for military and civilian officials moving throughout the operating area. When not in direct support of the operations, Big Horn took part in two additional U.S. 6th Fleet exercises in the region, Phoenix Express from June 6-12, and Reliant Mermaid from July 31-Aug. 3.


Following an extension to support ongoing operations in theater, Big Horn continued its support to U.S. and NATO ships, conducting the first ever at-sea replenishment of cargo stores to a foreign ship, in this instance the Royal Canadian navy, through the use of a NATO helicopter. Military Sealift Command operates approximately 110 noncombatant, merchant mariner-crewed ships that replenish U.S. Navy ships, conduct specialized missions, strategically preposition combat cargo at sea around the world and move military cargo and supplies used by deployed U.S. forces and coalition partners.