Mutiny on the 'Deutschland' Over Re-flagging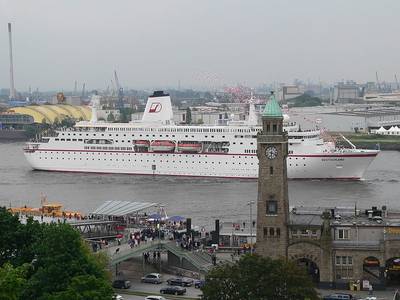 Captain wrote to German president to oppose owner's plans to hoist Maltese flag – ordered to leave his ship
Captain Andreas Jungblut, 59, had captained the luxury cruise ship - made famous as the setting for the long-running Traumschiff television soap opera – for 13 years.
But after he wrote a letter to German President Joachim Gauck on behalf of his crew protesting plans by the German Deilmann shipping company to hoist the Maltese flag in place of the German one, he was told to leave by the owner, Bild newspaper reported.
"Dear Mr President … you can't change a flag like you would an undershirt," wrote Jungblut, according to the paper. On hearing of the letter, the shipping company asked him to leave the ship and not return, wrote the paper. The shipping company said the captain has been sent on "holiday."

"This is a uniquely dishonourable case in shipping, a captain being thrown overboard," Jungblut told the paper.

In 2010 Deilmann was taken over by finance investor Aurelius and now wants to sail the ship under a Maltese flag – in order to save money. "We definitely want to change the ship register," a shipping company spokesman told the paper.
The Deutschland is currently moored on the River Thames in London for the Olympic Games, ready to bring German athletes home again on August 13, once the Games are over.

The scandal took place just days before Gauck was due to visit the boat on Saturday morning for an Olympic Reception by the German Embassy in London.
The mutiny in London has caused outrage and an outpouring of indignant national pride at home in Germany.