Flow Science Announces Software Development Agreement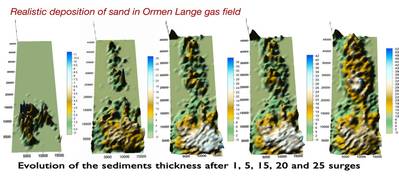 Santa Fe, N.M. - Flow Science Inc. has announced the conclusion of an agreement with Complex Flow Design AS of Trondheim, Norway, concerning the development and distribution of a new product, MassFLOW-3DTM, for the simulation of sediment gravity flows as mechanisms for the formation of hydrocarbon reservoirs in deep marine environments.

This new product is aimed at petroleum industry geologists and geophysicists interested in improving their ability to locate hydrocarbon reservoirs in deep water deposits.

"The hydrodynamics of turbidity currents are difficult and expensive to study in natural environments, and laboratory experiments are limited to small-scale, shallow-water flows carrying very fine-grained sediment," said Ernst W.M. Hansen, Managing Director of Complex Flow Design. "Numerical simulations, deterministic process modelling, based on hydraulic mathematical models, can be used to overcome these difficulties, while integrating data acquired from nature and laboratory experiments."

MassFLOW-3DTM uses Flow Science's FLOW-3D® solver as the engine for the numerical simulations. Complex Flow Design has developed a specialized user interface, with both pre- and post-processing capabilities, designed in a way to be very easy to understand and use for the typical geologist or geophysicist.

Complex Flow Design will present and demonstrate MassFLOW-3DTM at the American Association of Petroleum Geologists' Annual Convention and Exhibition in Long Beach, CA, from April 22-25.