Plymouth, UK, Maritime Development Land Deal Signed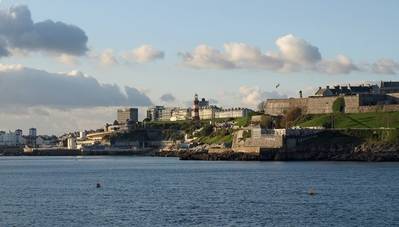 The deal is described by the British Government as a once-in-a-generation opportunity to expand the region's marine and advanced manufacturing industries by freeing up land at the South Yard in Devonport Naval Base. It will enable marine companies to grow their operations, the relocation of supply chain companies to the region and the creation of new marine enterprises.

The City Deal is intended to reinvigorate the region's marine and advanced manufacturing sectors, creating over 9,000 jobs. It will also tackle deep-rooted unemployment, by providing intensive support to over 1,500 young people helping them back into employment, and support small businesses so that the region's economy is open for business. In total, £34 million of local and national public sector investment will be provided. This will lever in £262 million of private sector investment over the long term.

The deal seeks to unlock land at South Yard in Devonport Naval Base. Plymouth City Council and the Heart of the South West Local Enterprise Partnership will begin detailed discussions with the Ministry of Defence over releasing land at South Yard, which could provide a prime location for the marine industry due to its close proximity to other companies in the sector and has access to deep water which is needed for marine research, development, and testing.

Agreement has the potential to release 32,400 square metres of land: as part of this scheme government and local partners have agreed £19 million of funding to provide infrastructure for any land that is released for development, and £9 million of this funding will be provided by government.

The Deputy Prime Minister, Nick Clegg, said:
"This City Deal will breathe life into Plymouth's maritime and manufacturing sectors, boosting jobs and growth in the whole region. Handing powers and funding from Whitehall to local people will kick-start the local economy, create over 9,000 jobs and help 1,500 young people to get into work."