Drydocks World hosts the German Dignitary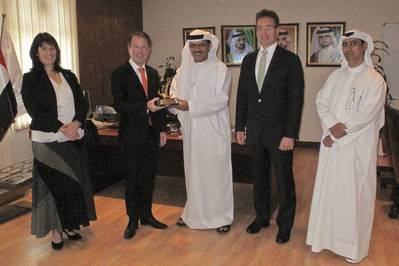 Drydocks World recently welcomed Prof. Dr. Hans-Jörg Schmidt-Trenz, CEO, Hamburg Chamber of Commerce, Germany. He was accompanied by Ms. Kirsten Staab, Director of the Hamburg Representative Office in Dubai. He met Mr. Khamis Juma Buamim, Chairman of Drydocks World and Maritime World, Mr. Ali Bin Towaih, VP – Business Development, Administration and Strategies and Dr. Markus Voege, VP – Operation and Production and discussed opportunities and avenues for future co-operation. He later toured the Drydocks World and Dubai Maritime City facilities.
"We are honored by this visit. We had extremely fruitful discussions on the immense possibilities of future collaboration and knowledge sharing with relevant companies in
Germany using
the Chamber's influence and reach. We have a very special involvement and relationship with the institution as they have provided us with continuous support that facilitated our participation in the key industry shows such as SMM and helped in arranging meetings with German companies, which has immensely helped in broadening our reach within that market,"
said Khamis Juma Buamim
, Chairman of Drydocks World and Maritime World.
The meeting will be followed by further discussions by key personnel from both sides. Dr. Markus Voege will be visiting Germany to further firm up ties with German collaborating companies.