DNV to Class Edda Wind's New CSOVs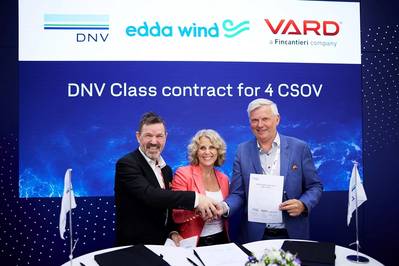 DNV said it has signed a classification contract for four new commissioning service operation vessels (CSOVs) ordered by Norwegian offshore wind operator Edda Wind.
Set to be delivered from Vard yards in Norway and Vietnam, the CSOVs will serve as primary vessels for offshore wind turbine technicians during commissioning and maintenance tasks, offering them support and a secure working environment. The vessels will be prepared for zero-emission operations based on a Liquid Organic Hydrogen Carrier (LOHC) concept in addition to being methanol ready.
Exclusively designed for Edda Wind by Vard in Ålesund Norway, two of the CSOVs are scheduled for delivery in Q1 2025 and will be delivered by one of Vard's shipyards in Norway. The other two, scheduled for delivery in Q2 2025 and Q1 2026, will be built and delivered by Vard Vung Tau in Vietnam.
The vessels will feature Vard Electro's SeaQ Integrated Bridge System. Onboard the vessels, there are 101 cabins and common areas available to accommodate 120 persons. Anti-heeling and roll reduction systems will be installed, and the vessels are equipped with motion-compensated gangway- and crane systems.
Kenneth Walland, CEO, Edda Wind, said, "The Edda Wind fleet is increasing to 14 highly advanced offshore wind service vessels by 2026. All vessels are built and operated under DNV class."
"As the energy transition continues to ramp up, support vessels to enable the roll out of renewable offshore fixed and floating wind turbines will be essential," said Tuva Flagstad-Andersen, Regional Manager, Region North Europe at DNV. "Vessels in this segment are highly specialised, must operate in demanding environments, while delivering operations safely, reliably, and sustainably."