Double-ended Ferry Named at STX Shipyard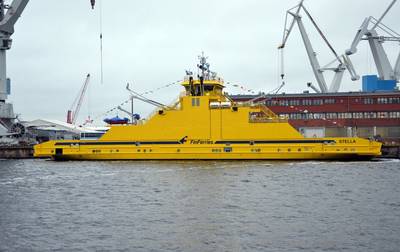 STX Finland Oy's Rauma Shipyard sees the naming & delivery of the new ferry to Suomen Lauttaliikenne Oy (Finferries).

The godmother of the next generation road ferry, Professor Elina Pirjatanniemi, named the ship "Stella" in the presence of invited guests, the representatives of Suomen Lauttaliikenne, STX Finland, and the classification society Bureau Veritas.

The environmentally friendly double-ended ferry, NB 1380, entered production in December 2011 at the STX Finland's Rauma Shipyard. The vessel will operate in Turku archipelago, Finland, on the Korppoo – Houtskari route, the length and challenging ice conditions of which will set special requirements on the vessel's performance.

Particular attention has been paid to the ferry's energy efficiency and safety. The 65 meter long ferry is double-ended, in other words, capable of running in both directions, and accommodates some 250 passengers, three tandem trailers and 39 cars. Stella will enter service at the beginning of 2013. The delivery included three floating link spans, facilitating rapid loading of the ferry.

"The design, procurement and building processes at the STX Finland's Rauma Shipyard have proceeded according to plans, and the co-operation with the customer, authorities and co-operation partners has gone very smoothly. We are very satisfied to be able to deliver this ferry, representing the cutting edge of shipbuilding in this vessel type, to Finferries and the residents of the Turku archipelago," says Toivo Ilvonen, Director of STX Finland's Rauma Shipyard.