Maersk Drilling Q2 2014 Profit Dips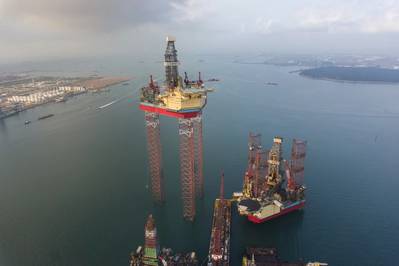 Maersk Drilling informs that in Q2 2014 it delivered a profit (NOPAT) of USD 117-m (USD 150-m). While the underlying operational performance remained strong with an operational uptime of 97% (96%), the decrease in profit of USD 33-m compared to Q2 2013 was mainly due to planned activities with growing and maintaining the fleet. The return on invested capital (ROIC) was 7.2% (12.6%).

"Once again, Maersk Drilling delivers a strong operational performance, but as expected the financial result was impacted by three rigs undergoing planned maintenance, upgrades and class surveys, and start-up costs for new rigs entering the fleet," says Claus V. Hemmingsen, CEO of Maersk Drilling and member of the Executive Board in the Maersk Group.

Maersk Drilling's ambitious growth strategy includes investments of USD 5.2bn in eight new rigs being delivered between 2014 and 2016 that will grow Maersk Drilling's market position in the ultra deepwater market and ultra harsh environment segments supporting the financial ambition of reaching a USD 1-bn NOPAT in 2018.
In Q2 2014, Maersk Drilling took delivery of Maersk Valiant, the second in a series of four ultra- deepwater drillships. Upon arrival in the US Gulf of Mexico the rig will commence a three year contract. Contracts have been secured for six of the eight newbuilds. Maersk Drilling is in discussions with oil companies for employment on both short and longer term contracts for the last two drillships, which have not yet achieved a contract.

In line with the growth strategy, Maersk Drilling has in Q2 2014 ordered four Blow-Out-Preventers (BOPs) and two risers to be used in the Project 20KTM, which is a joint development project with BP to develop the next generation ultra deepwater rigs capable of operating in high-pressure and high temperature reservoirs.

"Maersk Drilling see 20K as the next frontier, and we have an ambition of growing in what we call technically and operationally challenging areas. Our agreement with BP on Project 20K™ fits perfectly into this strategy, and with the order of the Blow Out Preventers, we have passed a key milestone in the development of a truly purpose built 20K™ Rig," says Claus V. Hemmingsen.

Maersk Drilling's forward contract coverage is 94% for the remaining part of 2014, 72% for 2015 and 49% for 2016. The total revenue backlog for Maersk Drilling at the end of Q2 2014 amounted to USD 7.0bn (USD 6.6bn).

"The high contract coverage provides a high degree of earnings visibility and reduces the exposure to near term market softening," Claus V. Hemmingsen concludes.

Maersk Drilling still expects a result for 2014 below the result for 2013 (USD 528m) due to planned yard stays and high costs associated with training and start-up of operation of six new rigs.

www.maerskdrilling.com