Drug Bust Nets $677 Million of Cocaine from Vessel Off Australia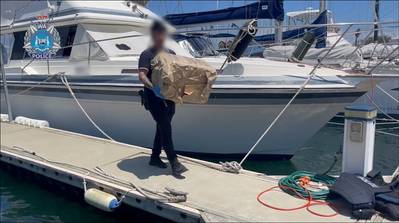 A joint U.S. and Australian law enforcement operation busted an international drug ring after intercepting 2.4 tonnes of cocaine aboard a vessel off the coast of South America that had been bound for Australia.
The cocaine, linked to a Mexican drug cartel, had a street value of around A$1 billion ($677 million), and was equivalent to half of Australia's estimated annual consumption, making the seizure one of the biggest that Australian police have been involved in.
Twelve suspects have been arrested and charged in the case, Western Australian state police said in a statement on Saturday, releasing details for the first time of an operation that began last November when the U.S. Drug Enforcement Administration (DEA) intercepted the vessel.
Western Australian police substituted the cargo with identically packed fake cocaine and dropped it roughly 40 nautical miles west of state capital Perth on Dec. 28.
Three suspected members of the "Australian arm of a drug syndicate" with 1.2 tonnes of fake cocaine were arrested on Dec. 30, after allegedly making three trips out through rough seas to collect the packages.
A further nine arrests were made through Jan. 13, including a traffic stop on the Great Eastern Highway, roughly 600 kilometres (373 miles) east of state capital Perth, where officers found more than A$2 million in cash.
In an era with all things connected, it is all the more important to unlock the potential of digital technology. ZTE, bolstered with the power of technologies, stays committed to shaping digital innovation and generating more possibilities for all works of life. Watch the video to find out how...
Hailing the success of "Operation Beech" Western Australia police commissioner Col Blanch in a statement: "The operation sends a message to international drug traffickers – your deadly drugs are not welcome here."
A 39-year-old male U.S. citizen was among the 12 charged, police said.
($1 = 1.4775 Australian dollars)
(Reuters - Reporting by Lewis Jackson; Editing by Simon Cameron-Moore)