First Ever Dual Drydocking of Aegis Destroyers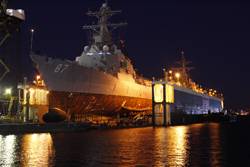 BAE Systems Ship Repair in Norfolk, VA., has performed the first ever tandem [or dual] drydocking of two U.S. Navy Aegis Guided Missile Destroyers. Both of the massive ships now rest back to back, out of the water, on one drydock.
During a 19-hour technical and engineering feat, about 160 BAE Systems employees guided the USS Mason (DDG 87) and the USS Bulkeley (DDG 84) onto the Titan Drydock. The Titan is the largest floating drydock on the East Coast, measuring 950 feet long and 160 feet wide, with a lift capacity of 52,000 tons. Each ship is more than 500 feet long and 65 feet wide, and each weighs approximately 9,200 tons. The two destroyers are scheduled to stay on the drydock until the end of April, where they will undergo a series of routine repairs and modifications for the Navy.