Steamship Drydocking Contract for UK Shipyard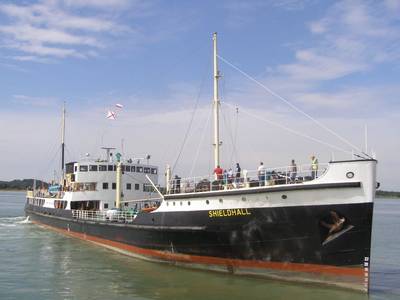 Ship repair company A&P Falmouth, located in the south-west of England has won a major contract for repair and drydock modification work to the historic steamship 'SS Shieldhall', which is normally based in Southampton.
SS Shieldhall is the largest steamship of her type in Europe, and is included in the National Historic Fleet, having been built and launched on the Clyde in 1955, to a classic pre-WW2 design.
The vessel had a long and successful first career with Glasgow Corporation – year round, carrying treated sludge out to sea and, in the summer, taking passengers on pleasure trips. Bought in 1977 by Southern Water she was finally withdrawn from commercial service in 1985 – but saved and purchased for £20,000 in 1988 by the charity that still operates her now.

The owners explain that today the 2,000 tonne Shieldhall is a unique seagoing 'time capsule'. She provides a working example of steamship machinery both above and below deck, typical of the cargo and passenger ships that plied the oceans of the world between the 1870s and 1960s, after which they became all but extinct.
Peter Child, Managing Director of A&P Falmouth, said: "This is a significant contract for us and we are delighted to working with Shieldhall once again. She has strong ties with Falmouth and we are pleased to celebrate the continuing success of the partnership and Shieldhall's confidence in A&P Falmouth to carry out the work."