Drydocks World signs MOU with Goltens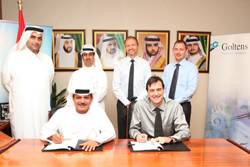 Drydocks World, a leader in ship repair, conversion and new building, signed a Memorandum of Understanding with Goltens. "We are delighted to have entered into this MoU with Goltens, which is a well-known global service provider for specialized mechanical works. We believe in working in partnership with like-minded individuals and organizations to broaden our reach and support the industry with our considerable combined expertise. The unified front of the two companies will be a strategic alliance that will enable both companies achieve better market penetration for smaller sized vessels and for developing it further in a manner that is mutually beneficial, by way of increased market share, better service to the clients,"
said Khamis Juma Buamim
, Chairman of Drydocks World and
Maritime World
.
While Drydocks World is an international entity with good infrastructure, strong reputation in ship repair, ship conversion and ship building and sizeable workforce, Goltens is an international company with a strong brand name, strategically located worldwide dealing in specialist services (Diesel Overhauls, In-situ Machining, mechanical etc) with a large customer base. The combination of both companies as a common face to the customers will produce a strong brand leverage, locally and internationally.
"The underlying basis of the cooperation is to produce a cohesive brand to the marine industry. Synergizing different skill strengths of DDW-D and Goltens, will serve as an added advantage in providing quality service including specialized services with adequate infrastructure, technological knowhow, leading to increased business for both companies. The combination will provide both companies a critical edge to mitigate new competition arising in the regions and assimilate increasing business volumes," said Paul Friedberg, President, Goltens Worldwide Board.
Goltens, which has a strong presence in the Middle East and across 21 locations around the globe, are under a long term Musataha ground development agreement for two plots within Dubai Maritime City. The plots measuring about 23,000 square metres are leased to Goltens for a period of 25 years, and Goltens is currently in the process of contstructing a state of the art new workshop facility of 10,000m2 foot print at DMC.