Drydocks World Hosts Jamaican Industry Minister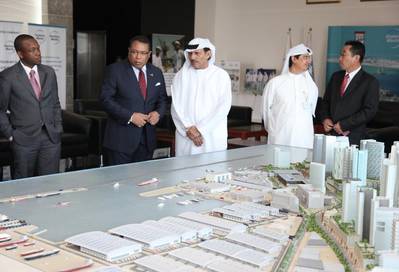 Drydocks World, a shipyard in the Middle East engaged in ship repair, conversion, new building and offshore construction, hosted a delegation from the Government of Jamaica led by The Hon. G. Anthony Hylton, Minister of Industry, Investment and Commerce.
Other members included Mr. Clive Fagan, Chairman of Factories Corporation of Jamaica; Dr. Eric Deans, Chairman, Jamaica Logistics Task Force; Dr. Dana Morris Dixon, Interim President, Jamaica Promotions Corporation (JAMPRO) and Mr. Leroy Lindsay, Senior Aviation Consultant, Jamaica Civil Aviation Authority. The private sector was represented by Mr. Kim Clarke, President, Shipping Association of Jamaica; Mr. Trevor Riley, General Manager, also of Shipping Association of Jamaica and Mr.Francis 'Paco' Kennedy, President, Jamaica Chamber of Commerce.


The delegation met with Mr. Khamis Juma Buamim, Chairman of Drydocks World and Maritime World. They were briefed on the background and strategy of the organization after which discussions were held on areas of potential future collaboration. The delegation later toured Drydocks World and Dubai Maritime City and were provided with an overview of the operations and mega projects that are underway.