HHLA Records Strong Earnings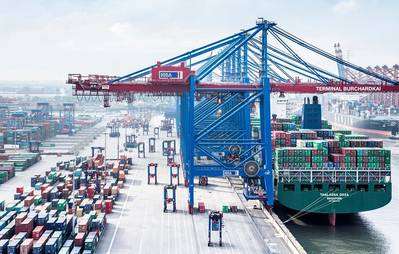 German Shipper Hamburger Hafen und Logistik AG (HHLA) recorded significant year-on-year growth in its key performance indicators in the first half of 2017.
Group revenue rose by almost 9 percent to EUR 622.8 million (USD 736.24 million). While the Group's operating result (EBIT) climbed by approximately 48 percent to € 98.8 million, the Port Logistics subgroup's EBIT grew by just over 54 percent to € 90.6 million.
This was primarily attributable to higher earnings in the Container segment due to an increase in volumes as well as to the successfully completed restructuring in the Logistics segment, which let to one-off expenses in the first half of 2016.
Throughput at the HHLA container terminals stood at 3.6 million standard containers (TEU) – some 12 percent higher than in the first six months of last year. The Intermodal subsidiaries also achieved volume growth of approxi­mately 7 percent to more than 744,000 TEU.
Commenting on the positive course of business in the first half,
Angela Titzrath
, Chairwoman of HHLA's
Executive Board
, said, "Following the reorganisation of the alliances of the shipping companies, HHLA managed to maintain its strong position in contested market environments. We are not just benefiting from ongoing positive economic developments in the world and in
Germany
; we are also profiting from our own service capability."
Angela added: "HHLA took timely steps to prepare for this upswing by making targeted investments in our facilities. This means we can offer our customers a range of services that offer a high level of quality and reliability, and thus generate growth at the Port of Hamburg with them."