Eastland Port Posts Strong 2018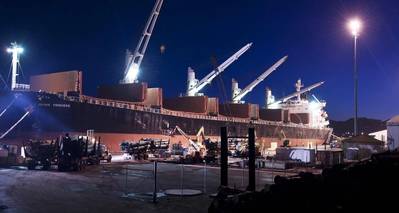 The commercial shipping port in New Zealand, Eastland Port achieved an annual tonnage throughput of just under 2.9 million tonnes of cargo in the year to March 2019, slightly down on last year's record-breaking result.

"The 12-month period was another very strong year for throughput at Eastland Port with vessels taking this district's export product to South Korea, Japan, China, and Singapore," says general manager Andrew Gaddum.

In the year to 31 March 2019, 140 ships handled 2,956,071 tonnes of cargo at Eastland Port. Of that, 126 ships took away 2,941,324 tonnes of logs.

The other 14,747 tonnes of cargo was made up of fertiliser (1,600 tonnes on 2 ships), fish (300 tonnes on 11 vessels making multiple visits), kiwifruit (3,247 tonnes on 3 ships), and squash (9,599 tonnes on 7 ships).

Gaddum says the record of 3,000,766 tonnes of cargo handled in a year was set in 2018. The lower log export volume in 2019 was primarily due to the floods in June last year which significantly impacted the region's harvesting and transport infrastructure.