Africa Seeks to Make Maritime More Economically Important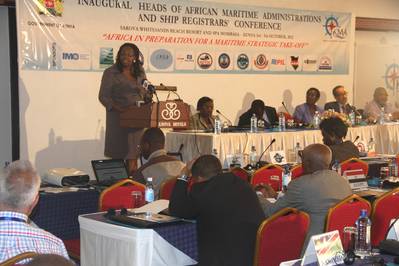 Plagued by low sources of revenue in their economies, African maritime stakeholders are meeting in Mombasa, Kenya to look into ways the industry could add to national revenue base.
Key debate issue on the first day revolved around whether Africa should adopt an open or closed ship registry system. While maritime experts and industry players yearn for an open form of registry, viewed as a means to boost the number of ships in the continent, hence revenue from taxation, government representatives at the meeting were however cautious. Nancy Karigithu, Director General, Kenya Maritime Authority said in East Africa, pirates have used the 20 years of anarchy existing in Somalia to terrorise vessels plying in the Indian Ocean. She is however optimistic that with the recent routing of the al-Shabaab militia from Somalia by the African Union forces with the support of the international community, the Gulf of Aden that bore the brunt of piracy will stablise and allow the growth of sea trade.
Magnus T. Addicu, President of the Accra-based African Maritime Policy Advisory Centre, said while crooks used the weaknesses that has existed in an open registry system to perpetrate piracy, things are changing now. "Gone are the days when any one would just come in, register their vessel and disappear. Maritime authorities now respond to this anomaly in a way that assures security and safety," he said. Karigithu added that the international maritime organization is also empowering inspectors at various ports of call in the region to make sure adherence to international standards on safety and security of vessels.
The move by IMO however is hampered by low legal capacity in the continent. In Kenya for example out of 46 insurance companies, only five offer maritime insurance and in Cameroon, less than five lawyers and a magistrate have training in maritime law
Volume of trade
Although sea trade in Africa has more than quadrupled over the past 40 years, there is however negligible number of ships, most of which with low tonnage. Lack of trained seafarers and maritime officials have not helped matters. By end of September, there were 12,200 vessels within Africa. But the number of ships together with the tonnage registered in Africa is hard to pin point, but estimates show around 4,000 ships, most of which are obsolete, and no longer working. This is despite Africa having long coastline. Of the 52 countries in the continent, 39 have coastline whose size is 31,000 km. the continent also has inland waterways equal to 300,000 square km.
Ship registry
However, Addicu feels that things are shaping up for the better but calls upon Africa to decide on which registry system best to use. He points out that shipping business in Africa is rising and increasing. In Liberia for example, maritime contributes to 70 percent of the country's government revenue. He said lessons learned from such countries as Liberia and Panama show that African countries wishing to successfully open its ship registry must not only overhaul its fiscal and monetary policies but also find foreign collaboration. Addicu pointed out that for Africa to attract ship owners it has to go beyond developing efficient registry system. "Monetary and fiscal policies of a country decide whether that country can develop its registry. The main factors include tax regimes, labour laws, ease of company registrations, fiscal stability, immigration laws, ease of acquiring visas, port conditions and regulations and fiscal incentives are important to attract ships," he said.
Seafarers
While the need is to grow the industry, on the ground however, the number of registered ships is on the decline across the continent save for South Africa, Ethiopia and Egypt. According to Wilfred Kagimbi, head of Maritime Safety and Registration of ships and Seafarers at the Kenya Maritime Authority, in countries such as Kenya and Ghana, there have been vigorous inspections to reduce sub-standard shipping in bid to enhance safety, security and the protection of the marine environment. "This has worked to weed out those ships that previously took advantage of fluidity in law to run clandestinely," he said. He added that removal of tax exceptions on fuel and spare parts have seen the number of ships reduced.
Experts now call upon African countries to begin benchmarking of the state of shipping with special focus on registrar's capacity to verify fleet, develop database of ship owners and their capacity to process personal data of ship and owners. They also called upon the governments to develop competitiveness index for Africa's shipping sector with special emphasis on cost of operating, commercial terms of trade and infrastructure. They further urged for ways to develop profiling of competence of skilled personnel and training and development of seafarers.