Shanghai, L.A. Ports Launch 'Ecopartnership'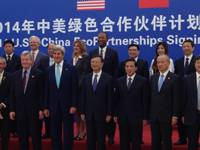 The Port of Los Angeles and the Port of Shanghai signed a formal agreement to exchange information, technical expertise and practices to expand the use of shore power at the Port of Shanghai.

The signing ceremony concluded the sixth meeting of the U.S.-China Strategic and Economic Dialogue. The meeting was co-directed by: U.S. Secretary of State John Kerry, Treasury Secretary Jacob Lew, China's Vice Premier Wang Yang, and State Councilor Yang Jiechi.

The annual conference brought the two nations together to address mutual challenges and opportunities on a wide range of bilateral, regional and global issues.

Los Angeles Mayor Eric Garcetti hailed China's growing interest to reduce vessel emissions as part of its larger efforts to improve air quality. Garcetti said the EcoPartnership strengthens ties established in 1998 under a Los Angeles-Shanghai Friendship Port Agreement.

"Los Angeles continues to see the health and economic benefits of green growth, and we are eager to support our No. 1 trading partner as it expands its shore power program," Garcetti said.

"We are honored to share our knowledge and experience with the Port of Shanghai and support this progressive environmental initiative at the world's largest port," said Port of Los Angeles Executive Director Gene Seroka. "We are especially thrilled to do so under the EcoPartnership Program, which is endorsed by the highest levels of both governments."

Chris Cannon, Director of Environmental Management for the Port of Los Angeles, signed the EcoPartnership Statement of Intent in Beijing with Director-General Jianping Sun of the Shanghai Municipal Transportation Commission (SMTC). The Commission, which oversees the Port of Shanghai, said the EcoPartnership builds on the collaborative work of the two ports to advance sustainable practices throughout the maritime industry, including creation of the Pacific Ports Clean Air Collaborative in 2006.

"We have achieved many great successes," said the SMTC. "This new partnership and our demonstration projects will bring significant and positive impacts to Pacific ports and advance sustainable port development to maximize air quality benefits far beyond what can be accomplished by a single port."

The U.S.-China EcoPartnership Program advances the goals of the Ten-Year Framework for Cooperation on Energy and the Environment established in 2008. The Los Angeles-Shanghai agreement is one of six new EcoPartnerships signed today, adding to 24 previous created partnerships under the Framework.

Specifically, the Port of Los Angeles will share knowledge with the Port of Shanghai on topics that include regulations, rules, standards, policies, electricity rates and incentive programs to promote shore power. Los Angeles' technical expertise and more than a decade of experience will help Shanghai build on its pilot program at Waigaoqiao Phase II container terminal as it adds shore power to the Yangshan Deepwater Port - Phase III and the Shanghai Wusong Cruise Terminal.

The parties will begin by developing a plan within the next 30 days to implement the three-year initiative. Consistent equipment and practices will accelerate emission reductions at both ports. Uniform standards and compatible infrastructure that allow ocean carriers to maximize their investment in clean ships could lead to green shipping routes that increase trade at both ports.

Shore power, which allows ships at berth to turn off auxiliary engines and run on clean energy to power vital onboard systems, has unprecedented air quality benefits. Plugging into shore-side electricity reduces engine emissions of diesel particulate matter (DPM), nitrogen oxides (NOx) and sulfur oxides (SOx) by up to 95 percent per vessel call. Ports must have the necessary infrastructure and ships must be equipped to connect to shore power.