Ecospeed Suited for Thruster Tunnel Protection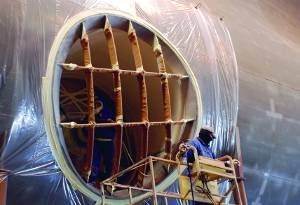 After successful results with four existing ro-ro vessels, Cobelfret NV ordered the Ecospeed coating of the thruster tunnels of five newbuild vessels, the fourth of which was coated last month. The application of the three newbuild vessels was performed at the Flensburger Schiffbau-Gesellschaft mbH & Co. KG shipyard. In the same period another thruster tunnel, on a vessel owned by the U.S. Coast Guard, was also given Ecospeed protection at the Fraser Shipyards Inc. in Superior, Wis.

Grit blasting and application of the two layers is completed in the presence of an Ecospeed inspector. The coating is both flexible and tough. It provides an impenetrable protective layer to the vessel while its flexibility enables the absorption of the forces that are produced by cavitation.