USS Dwight D. Eisenhower Wins Battenberg Cup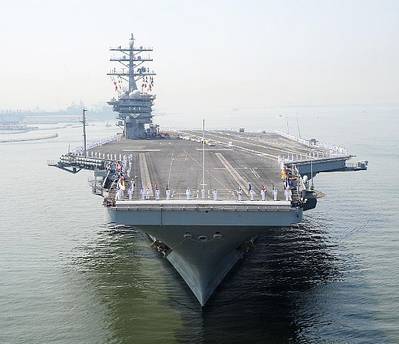 Aircraft carrier USS Dwight D. Eisenhower awarded the Battenberg Cup in recognition of outstanding achievements during 2012.

The Battenberg Cup is awarded annually to the best all-around ship or submarine in the Atlantic Fleet on the accumulation of the crew's success. For IKE, the award adds to a list of honors that have been given to IKE within the past year.


"It is a proud moment and an honor to represent the fleet by receiving the Battenberg Cup," said Capt. Marcus Hitchcock, IKE's commanding officer. "The relentless dedication and superior performance these Sailors display on a continuous basis is the reason this ship continues to operate at peak efficiency."


This marks the second time the Eisenhower has won the prestigious honor. The success can be attributed to the cumulative efforts of the crew and not to individual performances.


"We are honored to be receiving this award, it is one of the most prestigious awards to acquire," said Hitchcock. "We went out on deployment ready to perform a task and we supported the mission at the highest level for the entirety of our deployment."


In 2012, the USS Dwight D. Eisenhower was underway for 233 days, steaming 58,228 nautical miles to include a 6-month operational deployment in support of maritime security objectives and Operation Enduring Freedom.


IKE launched and recovered 9,859 sorties for 21,631 flight hours, including 3,313 combat sorties totaling 7,883 flight hours supporting operations in the U.S. 5th Fleet area of responsibility. 

In addition to earning the Battenberg Cup, Eisenhower also earned the 2012 Battle Efficiency Award and was awarded 13 of 14 individual departmental excellence awards.