ELearning: Expanding in the Maritime Industry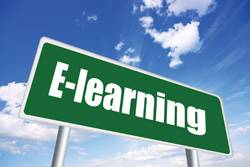 Like it or not, eLearning is transforming maritime training. People may argue its merits and applications, but there is no arguing that it is here to stay. As eLearning continues to expand its presence, all of us involved in maritime training are going to be faced with critical decisions about whether and how we employ it in our organizations. But do we know enough to make informed decisions? Do we truly understand eLearning, its strengths, its limitations, and how it is best applied?
This is the second in a series of articles which examines eLearning in the maritime industry. The first article, on page 22 of April's Maritime Reporter, discussed blended learning (the combination of face-to-face and eLearning) and presented some research on its effectiveness. Next month's article will look at the practical benefits of blended learning. But understanding eLearning and its benefits is only half the battle. It is equally important to examine its limitations, the topic we address here.
The Limitations of eLearning
Before presenting some of the benefits of eLearning in next month's article, it is important to understand its limitations when considering its use in maritime training. Like any powerful tool, eLearning can improve efficiency and effectiveness if it is applied to take advantage of its strengths. However, it may be of no help at all (and in fact may even be detrimental) if applied in a way for which it is not well suited. The cliché "the right tool for the right job" comes to mind here. So what is the "job" for which eLearning is not the "right tool"? What are the limitations of eLearning?

Not a Replacement for Hands-On Training
E-Learning is an excellent tool for teaching knowledge, including the fundamental knowledge on which skills are built. However, when a skill needs to be mastered, there is no substitute for hands-on learning.
Therefore, in maritime training where both skills and knowledge are required, it is important that we apply the correct technique for each. Practise, alone, cannot teach the required knowledge. eLearning, alone, cannot teach the required skills. This makes maritime training especially suited to a blended learning approach (combining eLearning with hands-on training). Not only are a wider variety of learning styles addressed, but the best technique can be employed for each of the knowledge and skills which must be assimilated. But the comment stands that eLearning can never be a complete replacement for hands-on learning.

E-Learning Cannot Replace an Instructor
Unfortunately, some organizations which employ eLearning believe that they can create a high-quality training experience without the use of a course instructor or an on-line course facilitator. This is generally not the case. Whether in-person or on-line, some person is still needed to guide, mentor, motivate, and answer questions. This person is also critical in accommodating trainees who have learning needs which are not anticipated by the learning materials. In this case, there is no substitute for a human at the front of the class or on the other end of the on-line communication forum to listen, reflect and suggest.
It is especially important to keep this point in mind if you choose to employ CD-based training packages. While some web-based eLearning experiences provide tools for trainees to communicate with their peer or a course facilitator, CD-based training packages typically do not. Therefore, if you do use CD-based training, you may wish to consider supplementing it with either face-to-face meetings or on-line discussion tools to provide access to a course instructor or facilitator.
E-Learning is Not a Cure-All
There are many examples of poor on-line courses just as there are many examples of poor classroom-based courses. It is just as easy to create one as the other. Taking a poor face-to-face course and putting it on-line does not turn it into a good course. It is now just a bad course, on-line. Likewise for instructors. A poor instructor who becomes a facilitator of an on-line course is now simply a poor instructor, on-line.
Although this may seem like an obvious observation, I highlight it because many organizations, when they decide to employ eLearning, do so because they believe that changing the delivery model will improve the course. It doesn't. E-Learning can be an excellent way to improve access, learning outcomes and experiences. However, the same consideration for pedagogy must be devoted to the design of the course and needs of the trainees as if the course was to be delivered in class.
Cost Reduction
The prospect of cost savings was a primary early driver for eLearning. Since then, experience has taught us much about the cost of on-line courses. Simply said, a high-quality eLearning course (with a course facilitator or instructor) tends to be no less expensive to deliver than its classroom-based alternative. There are some caveats to this, however.

Those who claim that eLearning is far less expensive than classroom-based courses make that claim for one of the following reasons:
1. Because the cost of travel and accommodation is removed when using eLearning. This is often a legitimate, and possibly substantial, cost saving.
2. Because the cost of building and maintaining infrastructure (classrooms) is typically a lot less than the cost of maintaining eLearning infrastructure (LMS license costs, etc). This, too is usually a legitimate claim.
3. Because they are comparing the cost of classroom-based instruction against eLearning which is not supported by a course facilitator or instructor (for example, training via a CD-ROM). Removing the cost of an instructor will indeed result in a substantial cost savings, but the comparison is unfair. The experiences and outcomes delivered by any course done in the absence of an instructor are likely to be poorer than those done with.

So - there can be cost differences, but each implementation is different and therefore there is no single correct answer to this question. In general, the delivery of a good eLearning experience, once you exclude infrastructure and travel costs, is approximately the same as for classroom-based instruction.
Connectivity
Most eLearning environments rely on internet connectivity. In fact, most traditional learning management systems assume that trainees will always have web access. This can be a problem in maritime training where trainees are sometimes on-board without such connectivity.
Fortunately, this is less of a problem than it was in the past. First, there are learning management systems which do not assume full-time internet connectivity. For example, the LMS created by the company I work for makes all critical functionality available off-line or on-paper and in addition will soon support synchronized vessel-based servers. Secondly, there is an accelerating trend toward on-board broadband. We have already experienced growth in capabilities with the evolution from narrow-band L-Band services to VSAT C-band. New technologies and reduced costs mean that this trend will continue to accelerate. The implications for eLearning are obvious.
Having said that, there is no question that, for now, eLearning cannot truly be as "anywhere/anytime" as its potential implies for those who spend the majority of their time on vessels without internet connectivity. But then again, it remains much more available "anywhere and anytime" than classroom-based courses.
Conclusion
Do any of these limitations prevent eLearning from being of benefit in maritime training? Absolutely not. However, it is important to understand these limits in order to make intelligent decisions about where it can be deployed, how it can be of benefit, and where it is best to stay with traditional models.
The third and final installment of this series will look at the practical advantages of eLearning in the maritime industry. Look for it in the June issue of Maritime Reporter.

About the Author
Murray Goldberg is CEO of Marine Learning Systems (www.MarineLS.com), maker of MarineLMS. He is a researcher and developer of learning management systems worldwide. Email: [email protected]


(As published in the May 2012 edition of Maritime Reporter & Engineering News - www.marinelink.com)