Electronic Fuel Monitoring Alliance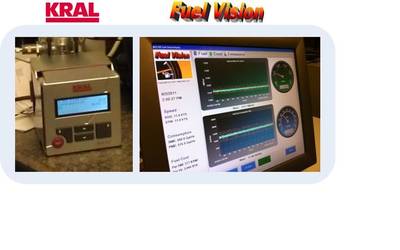 Macsea's Fuel Vision announces that its system now works with KRAL rotary displacement flow meters for high-accuracy fuel monitoring.

By combining Dexter Fuel Vision with the KRAL flowmeter, fuel data acquired aboard ships can be displayed in real-time throughout the vessel and also sent ashore to track fleet-wide energy conservation and emissions reduction efforts.

Energy saving is a mandate in today's shipping business climate and will likely continue well into the foreseeable future. A common requirement across all of these conservation activities is the need to accurately measure the benefits of each energy-saving technology under consideration such that effective decisions can be made regarding fleet-wide technology investments.

Because fuel efficiency has become such an important topic to ship operators, Macsea developed Fuel Vision as an add-on module to complement its Dexter ship health monitoring software suite. Fuel Vision provides a continuous display of key fuel consumption data aboard ship via a touch panel computer, allowing operators to easily track energy efficiency and how much fuel and money is spent during voyages. It provides real-time visualization of the effects of operational adjustments on fuel economy, such as speed reductions, trim adjustments, weather routing, etc. The system also has a remote monitoring capability to send fuel and emissions reports back to the home office.

Macsea recently developed an interface between Fuel Vision and KRAL® rotary displacement flow meters. KRAL flowmeters provide both sturdy design and high precision and for over 20 years, KRAL products have satisfied a wide range of customer requirements.

The KRAL flowmeter is a very compact positive displacement meter. The measurement values are calculated, understandable, and accurate to 0.1% of flow rate over a wide flow and viscosity range. KRAL products have demonstrated robustness in marine applications, with reliable working life and stability over time.