Carnival Corp on Target to Cut GHG Emissions 20%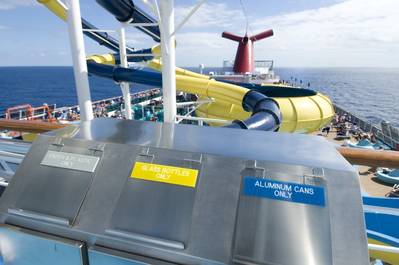 In honor of Earth Day and the importance of year-round environmental awareness, cruise ship company Carnival Corporation & plc says it will meet its goal to reduce its rate of greenhouse gas (GHG) emissions from shipboard operations by 20 percent. This goal was established by the company as part of Carnival's ongoing efforts to reduce environmental impact from its operations.

"Carnival has made the amount of GHG emissions released an indicator of our environmental improvement, and we are focused every day on finding innovative ways to cut down on these emissions," said Jim Van Langen, vice president of management systems for Carnival Corporation.

He continued: "Announcing that Carnival is well on its way to meeting this goal is a great way to celebrate Earth Day and all that it stands for. In fact, Carnival has already reduced its emissions by more than 19 percent since 2005 and we are likely to exceed our goal of 20 percent by 2015. This speaks to our commitment to constantly look for ways to raise the bar on environmental leadership and performance."

In addition to fitting exhaust gas cleaning systems to many of its ships, Carnival draws attention to some other of its eco-friendly achievements:
Continues to voluntarily install Advanced Waste Water Treatment Systems, and work on research and development for potential installations on new and existing ships. Almost half of the company's fleet (48 of 101 ships) has installed such systems.
Installed vessel shore power systems – known as "cold ironing" – on 20 percent of the company's fleet to connect to a port's electrical grid, significantly reducing air emissions at ports that have shore power capabilities. In addition, several ships within Carnival's fleet have partial plug-in installations which can be retrofitted to full installation if they are deployed on an itinerary where the port has infrastructure and capacity for shore power connection.
In 2013, fuel consumption decreased by more than five percent since 2007.
An 18 percent increase in non-hazardous waste recycled from ships from 2011 to 2012.
One hundred percent of Carnival's Operating Lines and ships are certified in accordance with ISO 14001, one of the world's leading environmental management system certifications.
In addition, AIDA Cruises, one of Carnival's 10 brands, will operate the world's first cruise ships with the innovative Mitsubishi Air Lubrication Systems (MALS), which reduces drag and saves propulsion power. This system enables ships to glide on an air-bubble carpet, which is projected to save seven percent of the operating power.

About Carnival Corp.
Carnival Corporation & plc is the largest cruise company in the world, with a portfolio of cruise brands in North America,Europe, Australia and Asia, comprised of Carnival Cruise Lines, Holland America Line, Princess Cruises, Seabourn, AIDA Cruises, Costa Cruises, Cunard, Ibero Cruises, P&O Cruises (Australia) and P&O Cruises (UK).