AR Engineering Debuts New Computer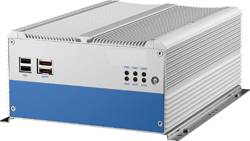 AR Engineering unveiled its newest marine computer designed for the latest software from MaxSea and Nobeltec. The Advantage TZ has Intel core I5 processors and a video card with 512MB of video RAM. This Nobeltec and MaxSea recommended card optimizes graphic intensive programs such as Nobeltec Trident and MaxSea TimeZero. This is the only high performance, fanless marine computer capable of running commercial versions of MaxSea such as TimeZero Plot.
Discrete video cards enhance the video performance of the computer considerably compared to integrated video. These video boards are separate from the motherboard. They have their own specialized graphics processing unit commonly called a GPU and dedicated video memory called VRAM. Graphics memory is used by the GPU to accelerate the graphics on your monitor and make Nobeltec and MaxSea run better. These specialized video cards do not share the computer's CPU and memory with other programs, so everything runs faster.
All of AR Engineering's computers feature SeaSafe marinization, a hardening process that consists of vibration dampening, and a corrosion control process using VCI's (vapor corrosion inhibitors) and conformal circuit board coating.
This fanless design takes corrosion control one-step further by limiting the airflow through the unit. The un-circulated air is warmed by the internal components, resulting in a very dry environment, regardless of outside humidity.
This very quiet design eliminates failures from fans, and from the buildup of internal moisture and dust, resulting in an extremely reliable marine computer.
Utilizing 32nm Intel® Core i5 processor, the Advantage TZ features Intel® Turbo Boost and Hyper-Threading technologies, 4GB of RAM, as well as the 512Mb video card. This card has VGA, DVI-I, and HDMI outputs. (Only two at once)
The 64Gb SATA II Solid State Hard Drive has no moving parts and a very small power requirement, resulting in less heat and best reliability. It is the best option for shock and vibration resistance. A 2nd optional SSD can be configured as a mirror of the 1st solid-state drive for added reliability and automatic backup. (RAID 0)
In addition to its sturdy aluminum case, the Advantage TZ provides a wide variety of connectivity, including two GbE Ethernet ports, 5 COM ports (1 internal), 6 USB, 2x SATAII, 2x eSATA, 3x 1394b, and audio interfaces. It operates on 9-30VDC. An AC adapter is also available.