Wärtsilä Extended Engineering Design Contract for New Crowley Ships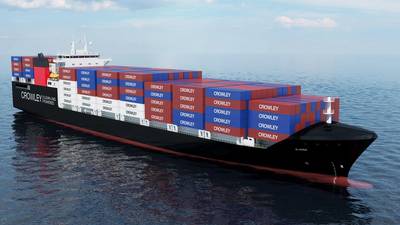 Wärtsilä is to supply the extended engineering scope for the initial, basic, and production designs for two Container RoRo vessels to be built for US-based owner, Crowley Maritime Corporation. The vessels will be powered by liquefied natural gas (LNG), and are to be built at the VT Halter Marine's shipyard in Pascagoula, Mississippi.
Wärtsilä Ship Design's WSD CRV 2400 WB enables the new ships to carry conventional 20 ft, and 40 ft containers, as well as the special 45 ft and 53 ft wide body high cube container developed for the American market. The RoRo capacity is in excess of 350 private cars.

When built, these will be among the very first LNG powered, American flagged, container RoRo ships. They will operate between Jacksonville, Florida and San Juan, Puerto Rico on a weekly rotational basis.
WSD CRV 2400 WB design specs
Length over all: 219.5m
Breadth: 32.24m
Depth: 18.0m
Draught, max: 10.36m
Service speed: 21kts
Deadweight at scantling: in excess of 26,000t
Because of the recently established Emission Control Area (ECA) along the eastern seaboard of the United States, the vessel design had to meet stringent environmental guidelines while serving the high performance operational requirements of the owners. Low emissions, reliability, and appropriate transit speed were, therefore, primary considerations.

"This vessel design raises the bar for merchant shipping, not only for US flagged ships, but globally. We are proud to be taking this bold step in bringing environmentally viable designs to the market, with Wärtsilä as a key partner," says Rick Zubic, Vice President, Business Development, VT Halter Marine.