MTU Series 4000 Engines Power New SAAM Tugs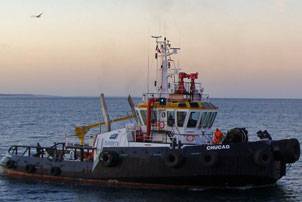 The newest two tug boats of the Chilean work boat operator SAAM will be powered by two MTU 16V 4000 M61 engines each vessel. The ASD tugs, both 98.4 ft of total length, have been designed and built by the Detroit Chile Shipyard in Puerto Montt in Chile.

The Caranca and Chucao named boats reach a maximum bollard pull of 65 tons, are equipped with HRP rudder propellers and will operate in harbour and offshore services among the coast line of Chile. SAAM as one of the biggest tug boat service suppliers in South America is operating more than 125 vessels all over the continent.

The German diesel engine supplier MTU Friedrichshafen won the contract to power the two tugs because of the excellent technical characteristics their Series 4000 engines with 2.000 kW at 1.800 rpm is able to deliver. Reduced fuel consumption, extended maintenance intervals and a permanent local After Sales service program of MTU not only in Chile are just some of the facts that put them in favour of their competitors.